Kromekote Jade Paper and Envelopes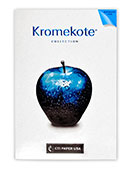 The luster of each of the four embossed surfaces appeals to the eye and the hand. Combine great design with any one of these extraordinary mica coated textures and watch as standard inks ignite and images leap from the page. The unique finish of Kromekote Jade was developed for optimal offset printing production and is also suitable for laser and toner applications.
Available in Text, Cover and Envelopes, Kromekote Jade is Elemental Chlorine Free, Lignin Free, Acid Free, and Recyclable.
For more information contact CTI Paper USA.
---

Kromekote Jade is your best choice for Mica Coated Embossed Papers and Envelopes